Accomodation
Please follow the link below. You will be redirected to a page hosted on the TRUST-INCENTIVE-HOUSE agency site (Trust-incentive-house is the agency responsible for handling registration and accommodation), where you will be requested to fill in a form with your data and than proceed with the payment.
Using this form, if you want to, you may also book an hotel and optional trips in Tunisia.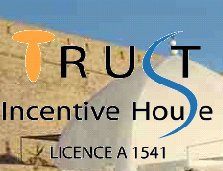 Visa

Countries that need no visa to enter Tunisia :

Algeria, Germany, Andorra, Antigua, Argentina, Austria, Bahrain, Barbados, Belgium, Bermuda, Bosnia-Herzegovina,
Brazil, Brunei, Bulgaria, Canada, Chile, South Korea, Ivory Coast, Croatia, Denmark, Dominica, Spain, United States of America,
Fiji, Finland, France, Gambia, Greece, Guinea, Honduras, Hong-Kong, Hungary, Ireland, Iceland, Italy, Japan, Kiribati, Libya,
Liechtenstein, Luxembourg, Macedonia, Malaysia, Maldive, Mali, Malta, Morocco, Mauritius, Mauritania, Monaco, Niger,
Norway, Oman, the Netherlands, Portugal, Qatar, Romania, St.Kitts Nevis Anguilla, Saint Lucia, Solomon Islands, Senegal,
Serbia and Montenegro, Seychelles, Slovenia, Sweden, Switzerland, Turkey, Vatican.
United Kingdom of Great Britain and of Northern Ireland (for the nationals holders of common passports)

South Africa citizens and Australian Citizens can get a visa at the Tunisian boarders.

Citizens from an ex-USSR countries (except: Armenia, Poland, Tchec Republic, Slovaquia and Hungaria) need no visa to enter Tunisia.
All other countries need a visa to enter Tunisia.

To for those who require a visa, please contact This e-mail address is being protected from spambots. You need JavaScript enabled to view it in order to send you the invitation letter that you will give
the Tunisia Ambassy in your country among other papers for your visa request file.
Please contact the Tunisian embassy in your country for more information.